from Day by Day with the Persecuted Church

Produce fruit in keeping with repentance. And do not begin to say to yourselves, "We have Abraham as our father." (Luke 3:8)
Li An
We cannot depend on tradition to be saved. For example, "I am from such a denomination" or "I am from such a church." We cannot depend on spiritual heroes; "I am a follower of..." or "I am a co-worker with..." We are to produce true fruit of repentance. If we do not bear such repentance, nothing else can save us.
A Christian lady in Shanghai summed it up so nicely when she said "before the Communists came with power I was a Lutheran. Now the Communists have closed down all our churches. All I can say now is I am just a Christian."
In the final analysis this will be the only true testimony that will count.
"When they saw the courage of Peter and John and realized that they were unschooled ordinary men, they were astonished and they took note that these men had been with Jesus" (Acts 4:13).
"For you know that it was not with perishable things ... that you were redeemed from the empty way of life handed down to you from your forefathers, but with the precious blood of Christ. Through him you believe in God ... and so your faith and hope are in God" (1 Peter 1:18-21).
Writer of the Month: Li An from China. Because he is well known in China he requested his real name not to be published, so we have used a pseudonym.
Copyright [C] 1995 Open Doors International. Used by permission.
Click here to sign up for a free monthly newsletter from Open Doors about persecuted Christians.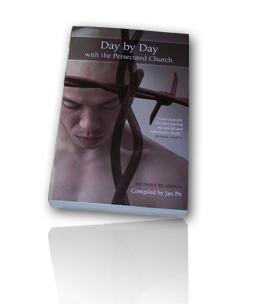 Day by Day with the Persecuted Church
compiled by Jan Pit with a forward by Brother Andrew (paperback, revised 2000)
Compelling wisdom from the pen of actual believers living amidst persecution, you'll be connected to the suffering, courage, and depth of life that exists in the harshest places in the world. Each of these 365 thought-provoking devotions will deepen your understanding of Christian persecution and provoke you to pray for our brothers and sisters with a new found depth.