from Day by Day with the Persecuted Church

The word of God is living and active. Sharper than any double-edged sword, it penetrates even to dividing soul and spirit, joints and marrow; it judges the thoughts and attitudes of the heart. (Hebrews 4:12)
Open Doors Contact Person
A Chinese Communist had a Christian wife. He was very much opposed to the Gospel. He had tried his best to make his wife recant her faith. In vain. One evening, he got so mad at his wife that he threw her out of the house in her pajamas. The poor woman did not know where to go. The fact that she was blind made her situation even worse. She sat down on the steps in front of her house, shivering with cold, and prayed for her husband.
After a while, he started feeling sorry for her and he let her come in again. To make up, he asked her if she needed anything.
She answered, "I need encouragement and I find that in the Bible. Would you please read something from the Bible to me?" To her great surprise, he conceded and started reading to her from the Word of God. God's Spirit started to work in the man and the prayers of his wife were answered. He continued to read the Bible and a few days after the incident he gave his life to Christ. Today he is a Bible teacher in China.
We can never expect too much from God.
Copyright [C] 1995 Open Doors International. Used by permission.
Click here to sign up for a free monthly newsletter from Open Doors about persecuted Christians.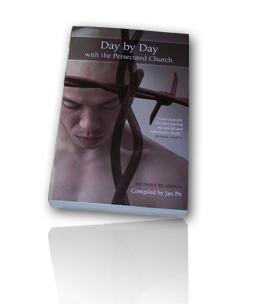 Day by Day with the Persecuted Church
compiled by Jan Pit with a forward by Brother Andrew (paperback, revised 2000)
Compelling wisdom from the pen of actual believers living amidst persecution, you'll be connected to the suffering, courage, and depth of life that exists in the harshest places in the world. Each of these 365 thought-provoking devotions will deepen your understanding of Christian persecution and provoke you to pray for our brothers and sisters with a new found depth.