from Day by Day with the Persecuted Church

...God is faithful; he will not let you be tempted beyond what you can bear ... he will also provide a way out so that you can stand up under it. (1 Corinthians 10:13)
Remarkable Remarks God's Provisions - Our Responsibilities
Pastor Lamb - China: "Abraham sent Ishmael away with a water bottle, God provided a well."
Yiddish Proverb: "God gave burdens, but also shoulders."
Brother Andrew: "When I tell those who suffer: don't run away from your country, I should add: I will help you."
Chinese proverb: "Instead of cursing the darkness, light a candle."
Copyright [C] 1995 Open Doors International. Used by permission.
Click here to sign up for a free monthly newsletter from Open Doors about persecuted Christians.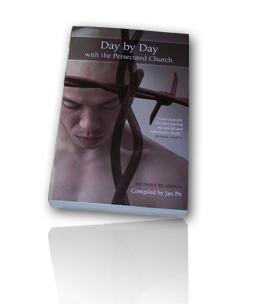 Day by Day with the Persecuted Church
compiled by Jan Pit with a forward by Brother Andrew (paperback, revised 2000)
Compelling wisdom from the pen of actual believers living amidst persecution, you'll be connected to the suffering, courage, and depth of life that exists in the harshest places in the world. Each of these 365 thought-provoking devotions will deepen your understanding of Christian persecution and provoke you to pray for our brothers and sisters with a new found depth.