from Day by Day with the Persecuted Church

Turn from evil and do good; then you will dwell in the land forever. For the Lord loves the just and will not forsake his faithful ones. (Psalm 37:27, 28)
Joseph
Joseph was always motivated by principle, not by expediency. He would rather lose his freedom than his peace. He was stripped of his coat, but never of his character.
In his confrontation with Potiphar's wife he deliberately closed his eyes to sin and to worldly advantage. It was important for Joseph to stand in good stead with Potiphar's wife. To please her would secure his standing and reputation. To cross her would ruin his hopes of a better future. But he shut his eyes to worldly advantage and clung to moral principles. Joseph looked beyond the temporary. He saw eternal principles, timeless laws. He saw God. Had he given in to Potiphar's wife, he might have acquired temporary favors, but they would not have lasted, and he would not have become prime minister of Egypt. The secret: Joseph was walking in undisturbed fellowship with God. He was in touch with God, and consequently protected by God.
"Turn from evil and do good; then you will dwell in the land forever."
Copyright [C] 1995 Open Doors International. Used by permission.
Click here to sign up for a free monthly newsletter from Open Doors about persecuted Christians.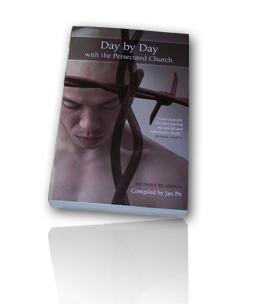 Day by Day with the Persecuted Church
compiled by Jan Pit with a forward by Brother Andrew (paperback, revised 2000)
Compelling wisdom from the pen of actual believers living amidst persecution, you'll be connected to the suffering, courage, and depth of life that exists in the harshest places in the world. Each of these 365 thought-provoking devotions will deepen your understanding of Christian persecution and provoke you to pray for our brothers and sisters with a new found depth.