from Day by Day with the Persecuted Church, 

He is the image of the invisible God, the firstborn over all creation. For God was pleased to have all his fullness dwell in him. (Colossians 1:15, 19)
Naji Abi-Hashem
Jesus Christ is the full revelation of God. He is the absolute Word and God incarnate. He is the person that overshadows all other persons and the name that surpasses all names. He is the powerful Son of God and loving Savior of mankind. His personality and works are so profound that a genius cannot comprehend them. In addition, Jesus Christ is the ultimate standard for moral/ethical values and the supreme example of personal maturity.
He is our role model and comprehensive guide, gentle Master and wise mentor, empathetic Counselor and therapeutic Healer, reliable Savior and accomplished Redeemer, close Friend and faithful Companion, our holy and yet merciful Lord.
This is the Christ whom we love and serve and in whom we believe and trust. May His magnificent person be glorified forever.
Naji Abi-Hashem from Lebanon.
Copyright [C] 1995 Open Doors International. Used by permission.
Click here to sign up for a free monthly newsletter from Open Doors about persecuted Christians.
---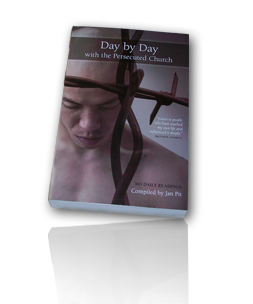 Day by Day with the Persecuted Church
compiled by Jan Pit with a forward by Brother Andrew (paperback, revised 2000)
Compelling wisdom from the pen of actual believers living amidst persecution, you'll be connected to the suffering, courage, and depth of life that exists in the harshest places in the world.  Each of these 365 thought-provoking devotions will deepen your understanding of Christian persecution and provoke you to pray for our brothers and sisters with a new found depth.
 To order your copy of this devotional, click