from Day by Day with the Persecuted Church

Blessed is the man who does not walk in the counsel of the wicked ... he is like a tree planted by streams of water ... whatever he does prospers. (Psalm 1:1, 3)
Joseph
We might conclude that Joseph's magnificent moral victory would be rewarded by God. Instead, it was followed by more calamities. He may well have asked, "Does godliness really pay?" That is also the big question in Psalm 73. The poet Asaph was confused about the prosperity of the wicked, and the troubles of the believers. "When I tried to understand all this, it was oppressive to me ... till I entered the sanctuary of God; then I understood their final destiny" (Psalm 73: 16, 17).
There is a price to be paid for godliness. Christians who suffer for their faith experience this almost daily. There certainly is a cost of discipleship, rejection, loss of friends, work, family, privilege. And yet throughout this daily devotionals you will read the triumphant testimonies of those who experienced persecution. They testify of victory, blessings and close intimate fellowship with God.
They made a choice. The best choice, as Joseph did, which leads to life and life abundantly.
Copyright [C] 1995 Open Doors International. Used by permission.
Click here to sign up for a free monthly newsletter from Open Doors about persecuted Christians.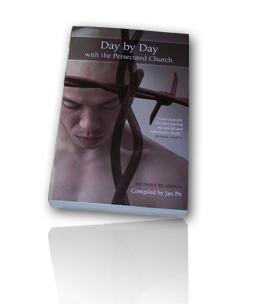 Day by Day with the Persecuted Church
compiled by Jan Pit with a forward by Brother Andrew (paperback, revised 2000)
Compelling wisdom from the pen of actual believers living amidst persecution, you'll be connected to the suffering, courage, and depth of life that exists in the harshest places in the world. Each of these 365 thought-provoking devotions will deepen your understanding of Christian persecution and provoke you to pray for our brothers and sisters with a new found depth.