from Day by Day with the Persecuted Church

By the rivers of Babylon we sat and wept, when we remembered Zion. There on the poplars we hung our harps.
(Psalm 137:1-2)
Naji Abi-Hashem
When you face a loss, it is alright to feel the sadness and stay with that feeling for a while. Grief and bereavement, like any other God-given emotions, are legitimate feelings. We should allow ourselves to express them in a healthy way and never deny, escape from, or push them away.
However, it is equally important not to exaggerate the losses, painful memories, or sad events to the extent that we fall into deep sorrow, despair, or depression. Naturally, disappointments are part of life but we should never allow them to generate self-pity and hopelessness. Like failures, losses are not meant to defeat us but to develop us. No matter what your experience or personal situation may be, God is still in control. Just be patient with yourself and press on! After a major crisis of loss, work through your frustration, anger, or pain with someone who knows how to listen and who understands your intense emotions. Do not give up, sit down, or lament for the rest of your life.
My beloved Christian friend, stand up and reach out to the willow. Bring down your harp and start playing your favorite music. Revive your old melody and sing again that beautiful song, for the Lord is still on His Throne. Again, let me stress, do not give up and you shall see the glory of God. For in Christ the best is yet to come.
Copyright [C] 1995 Open Doors International. Used by permission.
Click here to sign up for a free monthly newsletter from Open Doors about persecuted Christians.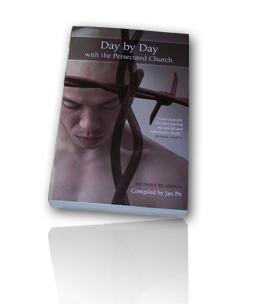 Day by Day with the Persecuted Church
compiled by Jan Pit with a forward by Brother Andrew (paperback, revised 2000)
Compelling wisdom from the pen of actual believers living amidst persecution, you'll be connected to the suffering, courage, and depth of life that exists in the harshest places in the world. Each of these 365 thought-provoking devotions will deepen your understanding of Christian persecution and provoke you to pray for our brothers and sisters with a new found depth.