from Day by Day with the Persecuted Church

But God came to Abimelech in a dream one night. (Genesis 20:3)
If you are pleased with me, teach me your ways so I may know you. (Exodus 33:13)
Open Doors Contact Person
Some believers in Sabah have begun a new prayer strategy. Since they are prevented by law from reaching out to the Muslims, they are asking the Lord to bring the Muslims to them, through signs and wonders. And the Lord is answering their prayers. In one case, a man came into a Christian bookshop, requesting to buy a Bible. He told the following story.
Some time ago he had a dream. In that dream, he was taken to several places to find peace. He could not find it anywhere. He heard a voice telling him to go to such and such a place and buy a Bible. The man believed his dream and came to that very book shop to get his Bible. He has since found peace with God through the reading of His Word.
God certainly works in mysterious ways. We may not have a dream today, but we have God's Word, a light to our path and a lamp for our feet. He who reads it and obeys it will never walk in darkness. Not even in the darkest night.
Copyright [C] 1995 Open Doors International. Used by permission.
Click here to sign up for a free monthly newsletter from Open Doors about persecuted Christians.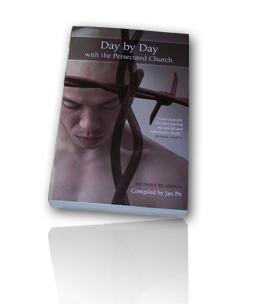 Day by Day with the Persecuted Church
compiled by Jan Pit with a forward by Brother Andrew (paperback, revised 2000)
Compelling wisdom from the pen of actual believers living amidst persecution, you'll be connected to the suffering, courage, and depth of life that exists in the harshest places in the world. Each of these 365 thought-provoking devotions will deepen your understanding of Christian persecution and provoke you to pray for our brothers and sisters with a new found depth.