from Day by Day with the Persecuted Church

...a woman came with an alabaster jar of very expensive perfume, made of pure nard. She broke the jar and poured the perfume on his head. (Mark 14:3)
Li An
To be broken and then poured out is the secret of spreading the fragrance of the Lord through our lives.
Many a time we can't be poured out because we are not willing to be broken.
We must be broken before we can be poured out. Each one of us has "perfume" inside of us. But the jar of selfishness must be broken. When the selfishness and self-centeredness is not broken, the sweet fragrance of perfume can never be poured out. The more we are broken the more fragrance will come out.
"The sacrifices of God are a broken spirit; a broken and contrite heart, O God, you will not despise" (Psalm 51:17).
This brokenness can be the result of repentance from sin, the acceptance of circumstances or the willingness to offer to the Lord that which is very dear to us. The result will be that a sweet aroma will flow into our own souls and through it to people around us.
Writer for the month - Li An from China. Because he is well-known in China, he requested that his real name was not published. We have used the pseudonym, Li An.
Copyright [C] 1995 Open Doors International. Used by permission.
Click here to sign up for a free monthly newsletter from Open Doors about persecuted Christians.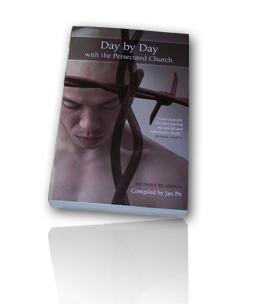 Day by Day with the Persecuted Church
compiled by Jan Pit with a forward by Brother Andrew (paperback, revised 2000)
Compelling wisdom from the pen of actual believers living amidst persecution, you'll be connected to the suffering, courage, and depth of life that exists in the harshest places in the world. Each of these 365 thought-provoking devotions will deepen your understanding of Christian persecution and provoke you to pray for our brothers and sisters with a new found depth.