from Day by Day with the Persecuted Church

This psalm is a eulogy to God's greatness in creation. The great, almighty God, who created everything, is concerned about us insignificant human beings.
David
O Lord, our Lord, how majestic is your name in all the earth! You have set your glory above the heavens.
From the lips of children and infants you have ordained praise because of your enemies, to silence the foe and the avenger.
When I consider your heavens, the work of your fingers, the moon and the stars, which you have set in place,
what is man that you are mindful of him, the son of man that you care for him?
You made him a little lower than the heavenly beings and crowned him with glory and honor.
You made him ruler over the works of your hands; you put everything under his feet:
all flocks and herds, and the beasts of the field,
the birds of the air, and the fish of the sea, all that swim the paths of the seas.
O Lord, our Lord, how majestic is your name in all the earth!
(Psalm 8)
Copyright [C] 1995 Open Doors International. Used by permission.
Click here to sign up for a free monthly newsletter from Open Doors about persecuted Christians.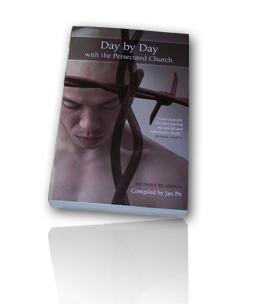 Day by Day with the Persecuted Church
compiled by Jan Pit with a forward by Brother Andrew (paperback, revised 2000)
Compelling wisdom from the pen of actual believers living amidst persecution, you'll be connected to the suffering, courage, and depth of life that exists in the harshest places in the world. Each of these 365 thought-provoking devotions will deepen your understanding of Christian persecution and provoke you to pray for our brothers and sisters with a new found depth.