from Day by Day with the Persecuted Church

Let the word of Christ dwell in you richly. (Colossians 3:16)
I have hidden your word on my heart that I might not sin against you. (Psalm 119:11)
Pastor Samuel Lamb
I mentioned already that I had been in prison for more than 20 years - of course without a Bible. And yet I had a Bible ... in my heart. It did not come there automatically or easily. It has cost me a lot of hard work and many, many hours of study.
It started when I was young. We lived in a little hut - not even a house, but my parents did not complain. The beauty was not in the house but in those who dwelt in it. My father called our residence the "Hallelujah-hut." A strange name maybe, but it was that word which was heard and spoken many times in that hut. Around the hut we hung all kinds of verses from the Bible - a very strange sight for other people, but very good for me because I started to memorize them. Throughout the years that I had a Bible, I started to memorize the Scriptures and by the time I was thrown into prison I had memorized the Bible from Romans to Hebrews, as well as many psalms and some other parts. Don't ask me why I memorized those Scriptures - only God knows, but when I was thrown into prison I had the Word of God in my heart - and nobody could steal it away from me. It took me a few years to learn it - it was a blessing for 20 years. And it still is.
Writer for the month - Samuel Lamb from China. This noted pastor was in prison for over 20 years. He is still under great pressure from the authorities. Hundreds attend his so-called House Church, especially young people. His story is available in a book Bold as a Lamb published by Zondervan, 1991.
Copyright [C] 1995 Open Doors International. Used by permission.
Click here to sign up for a free monthly newsletter from Open Doors about persecuted Christians.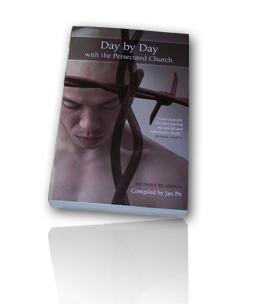 Day by Day with the Persecuted Church
compiled by Jan Pit with a forward by Brother Andrew (paperback, revised 2000)
Compelling wisdom from the pen of actual believers living amidst persecution, you'll be connected to the suffering, courage, and depth of life that exists in the harshest places in the world. Each of these 365 thought-provoking devotions will deepen your understanding of Christian persecution and provoke you to pray for our brothers and sisters with a new found depth.