from Day by Day with the Persecuted Church

This psalm is a lamentation, a lament to God.
The reason for it is not mentioned. Is it war, or perhaps suppression? Those who are innocent and weak are the ones first hit. The godless say, "There is no God."
The believer David cries out to God to intercede.
Not just to save the innocent, but also for the honor of His Name and His Kingdom.
David
Why, O Lord, do you stand far off? Why do you hide yourself in times of trouble?
In his arrogance the wicked man hunts down the weak, who are caught in the schemes he devises.
He boasts of the cravings of his heart; he blesses the greedy and reviles the Lord.
In his pride the wicked does not seek him; in all his thoughts there is no room for God.
His ways are always prosperous; he is haughty and your laws are far from him; he sneers at all his enemies.
The Lord is King forever and ever; the nations will perish from his land.
You hear, O Lord, the desire of the afflicted; you encourage them, and you listen to their cry,
defending the fatherless and the oppressed, in order that man, who is of the earth, may terrify no more.
(Psalm 10:1-5, 16-18)
Copyright [C] 1995 Open Doors International. Used by permission.
Click here to sign up for a free monthly newsletter from Open Doors about persecuted Christians.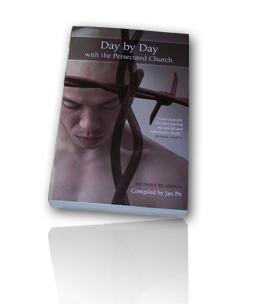 Day by Day with the Persecuted Church
compiled by Jan Pit with a forward by Brother Andrew (paperback, revised 2000)
Compelling wisdom from the pen of actual believers living amidst persecution, you'll be connected to the suffering, courage, and depth of life that exists in the harshest places in the world. Each of these 365 thought-provoking devotions will deepen your understanding of Christian persecution and provoke you to pray for our brothers and sisters with a new found depth.