from Day by Day with the Persecuted Church

Oh Lord, you have searched me and you know me.
You know when I sit and when I rise;
You perceive my thoughts from afar.
You discern my going out and my lying down,
You are familiar with all my ways.
(Psalm 139:1-3)
Remarkable Remarks - Trust and Confidence
Pakistani Christian:
"I would rather travel with God in the night, than travel alone in the day."
Corrie ten Boom - Holland:
"When I try, I fail. When I trust, He succeeds."
Unknown:
"Patience is: trusting God to solve your problem, without setting a deadline for Him to do it."
Ralph Waldo Emerson:
"All I have seen teaches me to trust the Creator for all I have not seen."
Francis Ridley Havergal:
"Let us be calmed by the thought that what is hidden from us, is not hidden from Him."
Earl Riney:
"The stars are always shining, but often we do not see them until it is dark."
Copyright [C] 1995 Open Doors International. Used by permission.
Click here to sign up for a free monthly newsletter from Open Doors about persecuted Christians.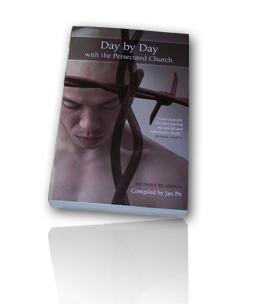 Day by Day with the Persecuted Church
compiled by Jan Pit with a forward by Brother Andrew (paperback, revised 2000)
Compelling wisdom from the pen of actual believers living amidst persecution, you'll be connected to the suffering, courage, and depth of life that exists in the harshest places in the world. Each of these 365 thought-provoking devotions will deepen your understanding of Christian persecution and provoke you to pray for our brothers and sisters with a new found depth.