from Day by Day with the Persecuted Church

Christ, who is your life. (Colossians 3:4)
Li An
A brother was put into prison for his faith in Jesus Christ and was only tried after having spent a long time in jail.
The following "conversation" was recorded during the trial, "Do you still believe in Christianity?" the prosecutor asked scornfully.
The brother replied, "I don't believe in Christianity." The prosecutor laughed, "Finally, we have reformed you." But the brother responded, "I never believed in Christianity, I believe in Christ."
"Don't play with words," the prosecutor yelled. "Christianity and Christ are the same."
"No there is a big difference." "What do you mean?" the judge asked. "The difference is that Christianity is a religion. It has churches, sets of rules and regulations, ministers and other church workers. You can close down the church, dismantle the regulations, arrest the ministers, but Jesus Christ lives in my heart, He is my life. You can never take that away. He is with me, always, even today in this court room. How can I reject Him who saved me? I just cannot not believe in Him."
If we put our trust in a religion, we may be restricted. But if we live in Christ we can never change, whatever the circumstances. Better in jail as a Christian, than outside jail as a "religious person."
And more than that, who can separate us from the love of Christ? He lives in us and that makes us victorious, wherever we may be.
Writer for the month - Li An from China. Because he is well-known in China, he requested that his real name was not published. We have used the pseudonym, Li An.
Copyright [C] 1995 Open Doors International. Used by permission.
Click here to sign up for a free monthly newsletter from Open Doors about persecuted Christians.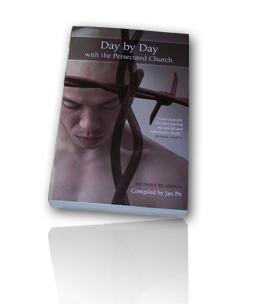 Day by Day with the Persecuted Church
compiled by Jan Pit with a forward by Brother Andrew (paperback, revised 2000)
Compelling wisdom from the pen of actual believers living amidst persecution, you'll be connected to the suffering, courage, and depth of life that exists in the harshest places in the world. Each of these 365 thought-provoking devotions will deepen your understanding of Christian persecution and provoke you to pray for our brothers and sisters with a new found depth.