from Day by Day with the Persecuted Church

Be perfect, therefore, as your heavenly Father is perfect. (Matthew 5:48)
Irina Ratushinskaya
It is the most shocking demand on Man, absolute perfection. No less than that. Is this really addressed to us? To people for whom it is already quite an achievement just to realize their sinfulness?
Some people think that the acknowledgement of sinfulness is a pretty spiritual achievement. But does it help? It is not just the diagnosis, but medical treatment that is needed for the recovery of a sick person.
We often hear people say "I am no saint', even with some kind of satisfaction, as if to say, "I admit that I am no saint, so I have fulfilled my duty." But that is only part of the duty.
Every demand made by Christ also contains a promise. He does not only command us to do things, He also offers us His help. If we would only believe it is possible! Perfection is an infinitely daring concept. It requires courage even to imagine it. Nevertheless the demand is addressed to you and to me.
How do our hearts respond to the demand ... and to the promise of this miracle?
Writer for the month - Irina Ratushinskaya from Russia was imprisoned for seven years in a labor camp. She has written about her experiences in a moving book entitled Grey is the Colour of Hope published by Sceptre Books, 1989.
Copyright [C] 1995 Open Doors International. Used by permission.
Click here to sign up for a free monthly newsletter from Open Doors about persecuted Christians.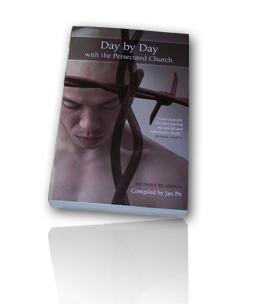 Day by Day with the Persecuted Church
compiled by Jan Pit with a forward by Brother Andrew (paperback, revised 2000)
Compelling wisdom from the pen of actual believers living amidst persecution, you'll be connected to the suffering, courage, and depth of life that exists in the harshest places in the world. Each of these 365 thought-provoking devotions will deepen your understanding of Christian persecution and provoke you to pray for our brothers and sisters with a new found depth.