from Day by Day with the Persecuted Church

I tell you, open your eyes and look at the fields! They are ripe for harvest. (John 4:35)
Gerhard Hamm
Although Christians in Russia were considered to be second-rate citizens for many years, we are happy now to see that many people show an interest in us. Many atheists and communists are disappointed and are searching for a new ideology. They ask Christians to tell them about the Gospel of Jesus Christ. Yes, the fields are ripe for harvest in the former Soviet Union.
After the downfall of communism, I spoke at an open air meeting in Siberia. More than 4,000 people came to listen. I knew this place in the woods very well because I had looked after my father's cows there 50 years ago. Many, many people were converted and accepted the Lord Jesus as their Lord and Savior. Among them was a teacher. She came to us and said, "Oh, Lord, forgive me, forgive me, forgive me please. For years I have told the children that there is no God, but in my heart I knew I was wrong. As from this day, I will tell the children that there really is a God and that He forgives our sins."
Yes, the fields are ripe for harvest. If God can cause such a breakthrough in this communist stronghold, we can only say, "Is anything too hard for the Lord?" (Genesis 18:14).
God makes all things new. In your life and in mine. Today.
Writer for the month - Gerhard Hamm from Russia spent many years in prisons and labor camps in Northern Siberia.
Copyright [C] 1995 Open Doors International. Used by permission.
Click here to sign up for a free monthly newsletter from Open Doors about persecuted Christians.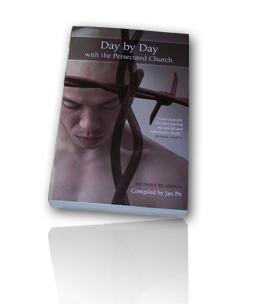 Day by Day with the Persecuted Church
compiled by Jan Pit with a forward by Brother Andrew (paperback, revised 2000)
Compelling wisdom from the pen of actual believers living amidst persecution, you'll be connected to the suffering, courage, and depth of life that exists in the harshest places in the world. Each of these 365 thought-provoking devotions will deepen your understanding of Christian persecution and provoke you to pray for our brothers and sisters with a new found depth.