from Day by Day with the Persecuted Church

Then these men went as a group and found Daniel praying and asking God for help. (Daniel 6:11)
Gerhard Hamm
Daniel prayed in spite of the king's decree. He was aware that praying was dangerous, but he also realized that prayer was of vital importance. How odd that praying could cost him his life, while not praying would kill him spiritually. It was no difficult choice. To him, his relationship with God was more important than his position or his life.
In Russia, prayer also met with great opposition. The devil knows only too well that praying people are victorious people.
One day, I was arrested together with 30 other brothers in Moscow. We were taken to the police station and locked up in an ice-cold room. It was a few days before Christmas and we thought we would probably not be home by then. It was no use complaining, so one of the brothers said, "Let's pray." We all knelt down on the cold concrete floor and then there followed a miraculous hour of prayer. The policeman was dumbfounded, but afterwards he said, "What kind of fanatics are you? How dare you pray in an atheist police station?" A long conversation followed.
Later on, an officer appeared and he said, "We don't know what to do with you. If we imprison one of you, he will convert another prisoner. If we imprison two, another two will be converted. Go home, you won't bother us there."
And he was right. Prayer gives strength and opens doors. If it doesn't open doors of prison cells, it opens the hearts of people inside prisons. What a powerful weapon! Use it.
Writer for the month - Gerhard Hamm from Russia spent many years in prisons and labor camps in Northern Siberia.
Copyright [C] 1995 Open Doors International. Used by permission.
Click here to sign up for a free monthly newsletter from Open Doors about persecuted Christians.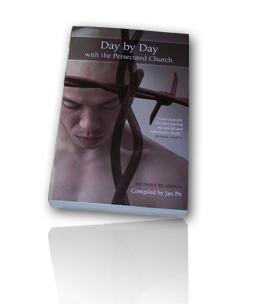 Day by Day with the Persecuted Church
compiled by Jan Pit with a forward by Brother Andrew (paperback, revised 2000)
Compelling wisdom from the pen of actual believers living amidst persecution, you'll be connected to the suffering, courage, and depth of life that exists in the harshest places in the world. Each of these 365 thought-provoking devotions will deepen your understanding of Christian persecution and provoke you to pray for our brothers and sisters with a new found depth.