from Day by Day with the Persecuted Church

So Abram left, as the Lord had told him. (Genesis 12:4)
Constantin Caraman
The next few meditations are about ordinary people who did extraordinary things.
People who blessed those who persecuted them.
People like Enoch who walked with God in a world of haste.
People like Job who trusted the Lord for better or for worse.
Is this not what God expects from us as well? If He does - He enables.
Abraham seems to have had a mission that was impossible. Emigrating at the age of 75, leaving his country; without even knowing where to go.
Abraham heard and obeyed the Word of the Lord. No objections like, "Lord, are You quite sure? Here in Ur are many more possibilities to serve You. This is the cultural, commercial and political centre of the world." No, Abraham obeyed God unconditionally. And God changed his name: Abram (father of height) became Abraham (father of a multitude).
Abraham did an unusual thing which made him tower above all others (father of height) and as such he became a source of blessing (father of a multitude).
Abraham, God's friend.
What was his secret? Unconditional obedience to the Lord.
Writer for the month - Constantin Caraman from Romania was in prison three times for his faith.
Copyright [C] 1995 Open Doors International. Used by permission.
Click here to sign up for a free monthly newsletter from Open Doors about persecuted Christians.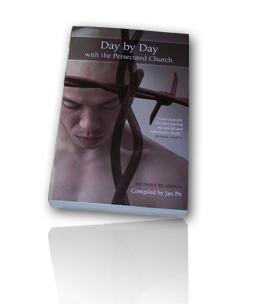 Day by Day with the Persecuted Church
compiled by Jan Pit with a forward by Brother Andrew (paperback, revised 2000)
Compelling wisdom from the pen of actual believers living amidst persecution, you'll be connected to the suffering, courage, and depth of life that exists in the harshest places in the world. Each of these 365 thought-provoking devotions will deepen your understanding of Christian persecution and provoke you to pray for our brothers and sisters with a new found depth.