from Day by Day with the Persecuted Church

But I tell you: Love your enemies and pray for those who persecute you. (Matthew 5:44)
Constantin Caraman
This is no easy assignment. We are inclined to dislike those who hurt us. The best thing we are able to do is to ignore them. But God requires something totally different. He wants us to bless those who hate us. To pray for those who persecute us. That seems impossible. Remember that blessing someone does not mean that we approve of his actions. In fact, we disapprove of their behavior, but they need God. That's why we need to pray for them, and bless them with the love of the Lord.
In His sermon on the mount (Matthew 5:44-48), Jesus even tells us to love them. We ourselves could never find it in our hearts to love an enemy. It just goes against our nature. Where in the world will we find people who can? You will only find it in people who are no longer of this world, but now belong to the Kingdom of God.
In Christ, who forgave us first, we are able to do the unusual deed of embracing an enemy, of loving those who hate us, of praying for those who persecute us, of blessing those who curse us.
And so, through us, Christ can reach that hard heart, so that it may also discover Christ's forgiveness and have eternal life.
Writer for the month - Constantin Caraman from Romania was in prison three times for his faith.
Copyright [C] 1995 Open Doors International. Used by permission.
Click here to sign up for a free monthly newsletter from Open Doors about persecuted Christians.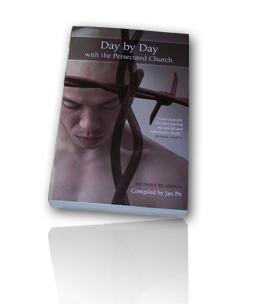 Day by Day with the Persecuted Church
compiled by Jan Pit with a forward by Brother Andrew (paperback, revised 2000)
Compelling wisdom from the pen of actual believers living amidst persecution, you'll be connected to the suffering, courage, and depth of life that exists in the harshest places in the world. Each of these 365 thought-provoking devotions will deepen your understanding of Christian persecution and provoke you to pray for our brothers and sisters with a new found depth.