from Day by Day with the Persecuted Church

When I saw him, I fell at his feet as though dead. Then he placed his right hand on me and said, "Do not be afraid, I am the First and the Last. I am the Living One; I was dead and behold I am alive forever and ever."
(Revelation 1:17,18)
Ali Sougou
Ali Sougou was the first ever indigenous Christian of the Comoros Islands, a beautiful group of islands in the Indian Ocean, east of the continent of Africa. Born and raised in a Muslim family, Ali met Christ in a supernatural way.
His first contact with Christ came through a Christian who visited his island. Ali was confused about what he had heard from the man. "Jesus loves me and died for my sins? Who is this Jesus?" He dare not ask the Christian. He could not anyway, as the Christian had already left the island. And there was no other Christian to ask.
Ali went home - disturbed and confused. All he wanted now was a quiet rest and a good sleep. That night something happened. Ali realized he was not alone in the room anymore. Facing him across the room stood a man. The beauty of His countenance was beyond description. His white robe lit up the room. His eyes were as blue as sapphires. "He held out his hands and placed them on my forehead." Ali said later, "I know now that I was in the presence of the Lord Jesus Christ."
It was Ali's first introduction to Christianity, or rather, to Christ Himself. "I rose from my bed and searched the room; the windows were closed." Jesus appeared to him - a night to remember. That night became Ali's new day.
A supernatural meeting with the unknown Savior. There was nobody to tell Ali about Christ - so Christ revealed Himself to him.
If God could meet Ali in such a wondrous way, can He not meet you - today?
Ali Sougou from the Comoros. This first Christian convert on this Muslim island came to know Jesus Christ in a special way. He writes about that experience. Edited with permission from the book In the Shade of the Moon published by Baruk, 1990.
Copyright [C] 1995 Open Doors International. Used by permission.
Click here to sign up for a free monthly newsletter from Open Doors about persecuted Christians.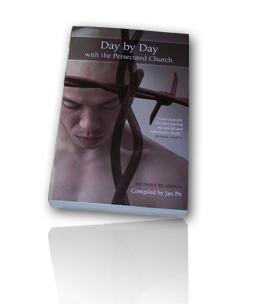 Day by Day with the Persecuted Church
compiled by Jan Pit with a forward by Brother Andrew (paperback, revised 2000)
Compelling wisdom from the pen of actual believers living amidst persecution, you'll be connected to the suffering, courage, and depth of life that exists in the harshest places in the world. Each of these 365 thought-provoking devotions will deepen your understanding of Christian persecution and provoke you to pray for our brothers and sisters with a new found depth.