from Day by Day with the Persecuted Church

Faith by itself, if it is not accomplished by action, is dead. (James 2:17)
Ali Sougou
One of the people who witnessed Ali's trial was a police inspector, whose duty it had been to watch all of Ali's movements - Whom did Ali visit, who visited Ali, what did they talk about?
When Ali was set free the Muslim leaders of the judges called the Commissioner of Police and told him to provide Ali with a truck and driver and send him home. The police officer was to escort Ali. Upon their arrival at Ali's house, the truck driver left - but the police inspector stayed. "Can I talk to you in private?" he asked Ali. They went into another room. "I was surprised to see you did not choose your own punishment. You prayed to Jesus Christ, I would like to know more about Him. Your God worked very hard on your behalf." Some days later - after many hours of discussions - the police officer received the Lord Jesus Christ as his personal Savior and Lord.
Now there was not one but two Christians on the island. Ali's steadfastness spoke to the crowd. Ali's willingness to die led to the policeman's salvation.
The world will judge us by our deeds - not our words. "In the same way, let your light shine before men, that they may see your good deeds and praise your father in heaven" (Matthew 5:16). Your good deeds are no guarantee for your salvation, but they may become the way to salvation for someone else.
Ali Sougou from the Comoros. This first Christian convert on this Muslim island came to know Jesus Christ in a special way. He writes about that experience. Edited with permission from the book In the Shade of the Moon published by Baruk, 1990.
Copyright [C] 1995 Open Doors International. Used by permission.
Click here to sign up for a free monthly newsletter from Open Doors about persecuted Christians.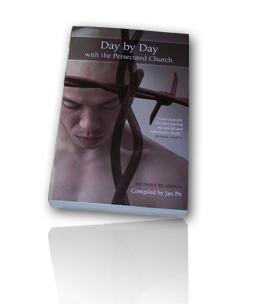 Day by Day with the Persecuted Church
compiled by Jan Pit with a forward by Brother Andrew (paperback, revised 2000)
Compelling wisdom from the pen of actual believers living amidst persecution, you'll be connected to the suffering, courage, and depth of life that exists in the harshest places in the world. Each of these 365 thought-provoking devotions will deepen your understanding of Christian persecution and provoke you to pray for our brothers and sisters with a new found depth.