Overcoming Unrest [Part 2]
Are you ready for some good news?
When you're in the grace of God, you're in His rest, no matter how strenuous the task at hand.
Today's Text: "Therefore, while the promise of entering his rest still stands, let us fear lest any of you should seem to have failed to reach it. For good news came to us just as to them, but the message they heard did not benefit them, because they were not united by faith with those who listened." (Hebrews 4:1–2, ESV)
It's strange that the Promised Land was called the place of "rest" because, after all, the Israelites had battles to fight in Canaan. The land flowing with milk and honey was also flowing with Amorites, Hittites and Philistines.  The writer of Hebrews draws on the image of the people of God and Promised Land to reveal the essence of real rest in Christ. When you trust in the finished work of Christ, you are already accepted. There is nothing else needed for your salvation and wholeness. When you know that, you're at rest. When you don't know it, you have unrest.
You can be working hard and be at rest. You can be hardly working and have no rest at all.
Imagine this. You receive a phone call from a lawyer who surprises you with an astonishing announcement. You have just inherited a million bucks. Here are your instructions. You need to show up the next morning at 8 am sharp at the attorney's office to sign some papers. You'll need to read through the will, make sure you understand all that you've received, and you'll have to bring an account number where the funds should be wired. Is that hard work? Of course not. Signing a few papers and coming up with an account number to receive a million dollars is a breeze. When you are receiving a wonderful a gift, you're at rest.
But, what if the scenario was a bit different? What if the lawyer called and gave you bad news? Tomorrow morning at 8 am you have to arrive at the attorney's office because you have suffered a loss in a civil suit. You owe a million dollars. You've had to sell your house and belongings, cash in your life insurance, and borrow from family members. You have to read through the settlement agreement and sign some papers. You have to come prepared to wire the funds to the plaintiff's account. Is that hard work? Absolutely.
Where there is good news, there is rest. Where there is bad news, there is unrest.
So, if you want to experience real rest in the Lord, keep you heart full of good news. Jesus died so you don't have to. In Christ, you are the heir of every spiritual blessing. And that's the Gospel!
---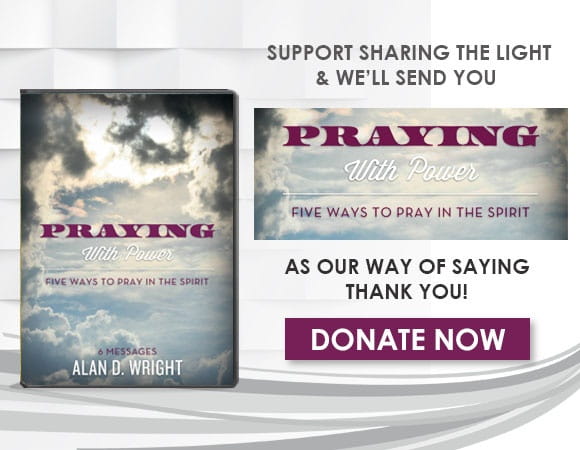 For more information please visit SharingtheLight.org.