The Three Crosses [Part 2]
Are you ready for some good news?
We close our radio series today on "How to Have More Freedom and Faith … Without Trying To."  The less than clever series title conveys the main point: faith doesn't arise because you try to have more faith – faith arises when you see Jesus.
Today's Text: "One of the criminals who were hanged railed at him, saying, 'Are you not the Christ? Save yourself and us!' But the other rebuked him, saying, 'Do you not fear God, since you are under the same sentence of condemnation? And we indeed justly, for we are receiving the due reward of our deeds; but this man has done nothing wrong.' And he said, 'Jesus, remember me when you come into your kingdom.' And he said to him, 'Truly, I say to you, today you will be with me in Paradise.'" (Luke 23:39-43, ESV)
Today, as we conclude this hugely important series, we turn our eyes to the cross. There, as Jesus slowly suffocates, He is flanked by two criminals. There are three crosses. An innocent Messiah and two guilty felons.
The two criminals had so much in common. They were both guilty. They were both helpless. They were both dying. They both spoke to Jesus. They both wanted Jesus to save them.
They were so alike, but they could not have been more different. One criminal was still manipulating and shaming with his dying breaths. That's what law and condemnation do to a man's soul. Mockery is a form of manipulation. The mocker uses shame to control others. The felon was dying on a cross and trying to manipulate Jesus by blaspheming Him! The other criminal discovered what life is all about. It's about recognizing that you can't save yourself and calling out for God's mercy and grace. One criminal wanted Jesus to come off the cross. The other just wanted to be remembered.
Here is the irony, Beloved.
Jesus was the only One
on a cross that day
Who didn't deserve to be on a cross, but He chose His cross.
He was the only One
Who had the power to come down from the cross, but He refused to do so.
He was the only One
reckoned as guilty, though He was sinless.
He was the only One
Who chose to stay, to breathe His last,
so that the thief on His right, and so that you and I, could breathe celestial air with Him.
The way to life is Jesus Christ, and Him crucified.
And that's the gospel!
---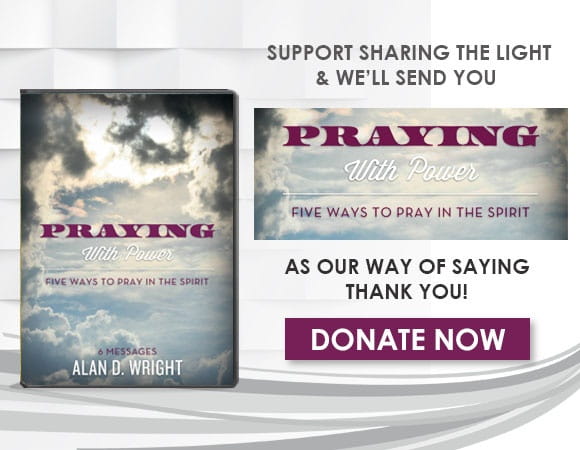 For more information please visit SharingtheLight.org.