From Fear to Faith [Part 2]
Are you ready for some good news?
Faith is faith – even if you have only a little faith, you have real faith.
Today's Text: "Jesus immediately reached out his hand and took hold of him, saying to him, "O you of little faith, why did you doubt?"" (Matthew 14:31, ESV)
In Peter's famous water walking episode, the impetuous fisherman spent a few moments on top of the water and then, when he saw the wind and waves -- glub, glub, glub.
Most of the messages I've ever heard on this text highlight the failure of Peter and Jesus' words to the sinking disciple: "… O you of little faith…." Traditionally, preachers highlight the frailty of Peter's faith. But does it really make sense that Jesus would mock Peter for stepping out in faith? After all, Peter walked on water – at least for a little while!
The original Greek reveals a one-word declaration on Jesus' lips. He calls Peter a "little faith one." It's actually a term that Christ uses numerous times of the disciples.
What if it wasn't a term of derision; what if it was a term of endearment?
Little faith is still real faith! If Jesus calls you a "Little Faith One," He's acknowledging that you have some faith. Elsewhere, He assures that even a mustard seed of faith is powerful enough to move mountains.
Imagine two men, Sam and Joe, are seated on a plane next to each other flying from Charlotte to Dallas. Sam is a seasoned traveller with million mile elite status – he's been flying all his life. Sam has so much faith that the plane will get him safely to his destination that he doesn't even think about it. Sam just gets on the plane and takes a nice nap en route. Sam wakes up in Dallas refreshed and happy. Joe, on the other hand, is scared to fly. He hates it, but absolutely has to take this flight. His job depends on it. Joe is a nervous wreck. His palms sweat as he puts a death grip on the armrests and rejects the mid-flight refreshments. When Joe gets off the plane in Dallas, he's worn out from all the worry.
You might call Sam, "Much Faith," and Joe, "Little Faith." But the intriguing question looms: Is "little faith Joe" any less in Texas than "much faith Sam"? Indeed not. A little faith still got Joe to Dallas.
Spurgeon sums up point of the story: "If you have a faith whose eyes are on Jesus, whose longings are for Jesus, whose hopes are all centered in Jesus, whose steps all head to Jesus, then you have a faith upon which Jesus sets His seal and though He calls it, "little," yet He calls it, "faith." Be sure that that which the Lord, Himself, acknowledges to be faith, is faith, even though, for the present, it leaves you damp with the brine from which you are newly plucked!"
And that's the Gospel!
---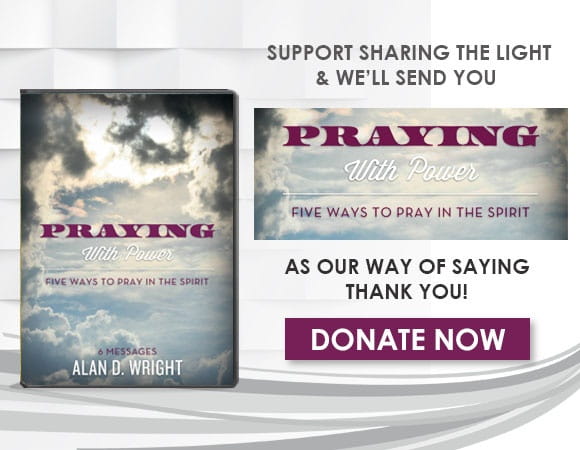 For more information please visit SharingtheLight.org.
Listen to the latest broadcast on OnePlace.com.