Looking Forward to Christ's Return [Part 2]
Are you ready for some good news?
In Christ, the Father is utterly pleased with you.
Today's Text: "And now, little children, abide in him, so that when he appears we may have confidence and not shrink from him in shame at his coming. If you know that he is righteous, you may be sure that everyone who practices righteousness has been born of him." (1 John 2:28–29, ESV)
Have you ever noticed that we are predisposed to fear the Father's displeasure?
We're too often like children, afraid of punishment. It's a fear that entered when sin broke the world. When Adam and Eve sinned, they began hiding from each other and hiding from God. It wasn't because Adam and Eve suddenly became really critical of one another. You might think that the reason they start hiding from each other and covering themselves up was that Eve ate of the fruit and suddenly became a nagging wife. "Adam, why can't you share your feelings with me? Go out and get a job." I imagine it's not that Eve becomes a nag; it's that , because sin has come into his heart, Adam naturally begins to expect rejection.
It's not that Adam eats the forbidden fruit and suddenly he becomes a hypercritical husband. "Eve, I'm tired of this, how about something different to eat around here?" Instead, the Scripture says that sin came into the world and, although Adam and Eve previously were unashamed, suddenly they felt the need to cover themselves up; they felt a need to hide from each other.
Even before there was anyone to condemn them, Adam and Eve's own hearts condemned them. Our "sin" problem isn't just the constant battle against our sin nature. Our bigger problem is that our sin nature causes us to condemn ourselves, and in that self-condemnation, we expect rejection from the Father. We are predisposed to fear the Father's disapproval.
Beloved, God already knows your sin. You can't disappoint Him. He is omniscient. Getting ready for Christ's return means letting your soul be ignited with a living hope that every day of your life, no matter how difficult that day may be, or what disappointments you may face, you belong to Christ and nothing can ever separate you from Him. Abide in Him so that you will increasingly know the assurances of His steadfast love. And that's the gospel!
---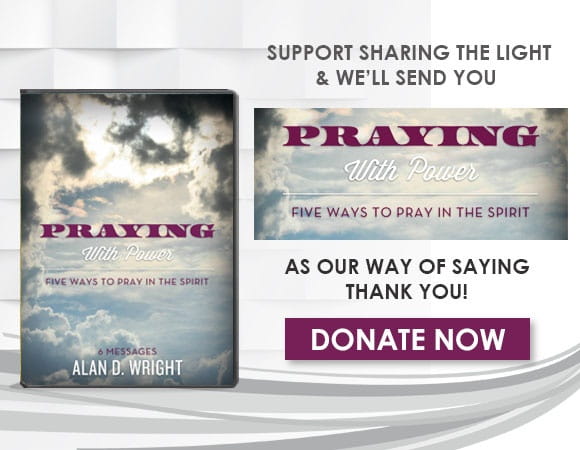 For more information please visit SharingtheLight.org.
Listen to the latest broadcast on OnePlace.com.