The Beauty of Balance [Part 1]
Are you ready for some good news?
Your life in Christ flourishes through a dynamic balance of seemingly opposite truths.
Today's Texts: "That evening at sundown they brought to him all who were sick or oppressed by demons. And the whole city was gathered together at the door. And he healed many who were sick with various diseases, and cast out many demons…. And Simon and those who were with him searched for him, and they found him and said to him, "Everyone is looking for you."" (Mark 1:32–37, ESV)
"On that day, when evening had come, he said to them, "Let us go across to the other side." And leaving the crowd, they took him with them in the boat, just as he was." (Mark 4:35, ESV)
Ever wonder why the tight rope walker carries a long pole? It's a principle of physics called "the moment of inertia." Putting weight out to the sides decreases the possibility of sudden rotation. It's one of the reasons when we think we are falling that we instinctively throw our arms out to the sides. Things that spread their weight out over large distances (or put weight far from their center) don't turn suddenly. The tightrope walker's pole increases the walker's ability to resist sudden changes like wind, or even small errors that they themselves make.
In other words, the tightrope walker is safer with weight distributed to greater lengths to the sides and he's less stable if tightly compacted in the center.
Figuratively, that's how God has designed our lives.
Being balanced doesn't mean that you are afraid of the diversity of life experiences so that you keep yourself in some cocooned space in the middle of it all. Balance really means being able to drink deeply of the diversity of this dappled world that God has made. It's paradoxical, but the key to health is to be able to freely experience seemingly opposite feelings and emphases.
In one scene (Mark 1:32), Jesus is touching the "whole city." In another scene, Jesus is "leaving the crowd." Balance means being able to be with a lot of people and then with no people. Balance doesn't mean always playing it safe, living in the middle with no extremes. It means that you can have laughter and tears, work and rest, celebration and contemplation.
Your life is designed by God for dynamic balance. That's the way of health. And that's the Gospel!
---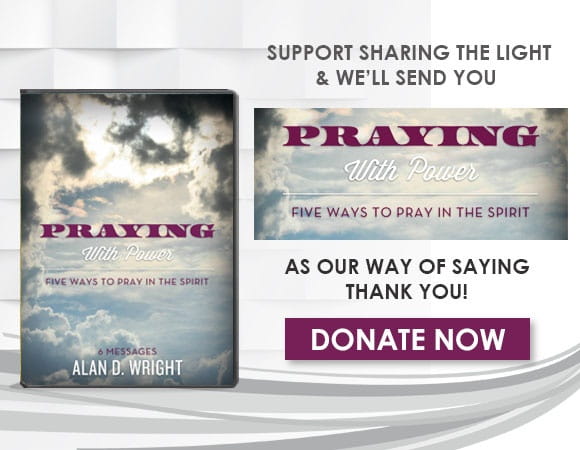 For more information please visit SharingtheLight.org.
Listen to the latest broadcast on OnePlace.com.