Ed Young Television Devotional
On Location - Sam I Am (Scar Tissue)
Who we are today is a direct result of our past.  We all have scars and wounds from the words and actions of others and from our own failures and mistakes.  But for the Christ-follower this is not the end of the story.
As the Spirit of God uses the Word of God to remake us into new creations, these scars from the past become stepping stones to spiritual maturity.  Embrace these top ten principles from God's word and allow Him to rebuild your battered self-esteem:
10 I am created
For we are God's workmanship. Ephesians 2:10
9 I am chosen
For we know, brothers loved by God, that he has chosen you...1 Timothy 1:4
8 I am protected 
Protect me as you would the pupil of your eye. Psalm 17:8 (NLT)
7 I am complete
His divine power has given us everything we need for life and godliness through our knowledge of him who called us by his own glory and goodness. 2 Peter 1:3
6 I am victorious
In all these things we are more than conquerors through him who loved us. Romans 8:37
5 I am called
[God] has saved us and called us to a holy life--not because of anything we have done but because of his own purpose and grace...2 Timothy 1:9
4 I am forgiven
There is no condemnation for those who are in Christ Jesus. Romans 8:1
3 I am free
Then you will know the truth and the truth will set you free. John 8:32
2 I am loved
 I have loved you with an everlasting love; I have drawn you with loving-kindness. Jeremiah 31:3
1 I am accepted!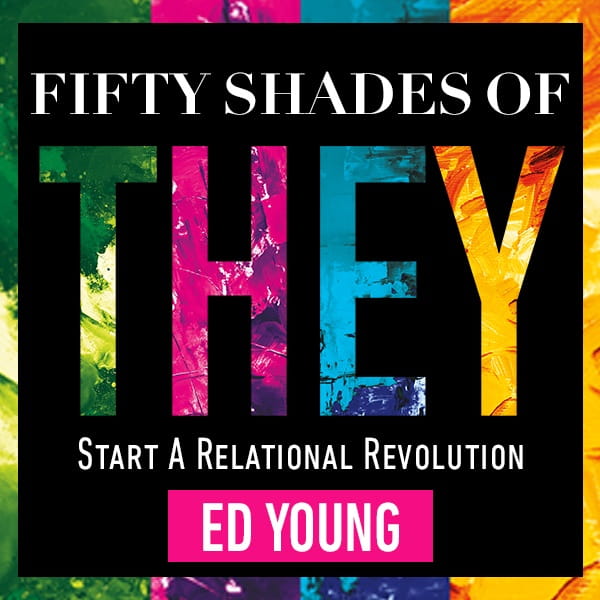 FIFTY SHADES OF THEY From New York Times Best-Selling Author Ed Young
Fifty Shades of They gives you fifty simple, yet profound insights that will help any relationship thrive, from friendships to business partnerships to marriages. Based on biblical standards and the teaching of Ed Young, this book is written for anyone who is looking to give new life to their relationships.
For more information about Ed Young Television please visit FellowshipChurch.com. Ed Young Television is also available on OnePlace.com and LightSource.com.