Your victory in Jesus
"The enemy wants to numb you into a coping kind of Christianity that has given up hope of seeing God's resurrection power." ― Bob Sorge,Glory: When Heaven Invades Earth
Sometimes we visualize God's struggle with Satan like a championship heavyweight boxing match: the contenders are tough and it's gonna be a gruesome fight! Not so. The struggle is more like the Dallas Mavericks playing my 6th grade boys' basketball team. Now, my boys are really, very good. But if they go against the Mavericks, it's "a bit" of a mismatch. (Okay, so they would have no chance at all.)
The evil one, although he is quite powerful, has no chance against the King of Kings and the Lord of Lords either.There are at least three biblical reasons why we know that the evil one is subject to God:
He is powerful but not omnipotent. Because he was created, he does not have more power than God Himself.
He is crafty but not omniscient. He doesn't know everything. He does not know the future.
He is wicked but not omnipresent. He's in one place at a time. That's why he has to send in demons to do his work.
So if you are in Christ, by God's grace, you are on the winning team. At the same time, you must, must, must live in humble awareness of the fact that Satan could crush you like the Mavericks would squish my boys' basketball team—if it wasn't for Christ in you and you being in Him.
Finally, be strong in the Lord and in his mighty power… For our struggle is not against flesh and blood, but against the rulers, against the authorities, against the powers of this dark world and against the spiritual forces of evil in the heavenly realms. —Ephesians 6:10,12
If Christ is in you, the devil can't hurt you because he has essential limitations. He is a created one and he's fighting the Creator of all things.Just remember, you are strong in the Lord and the Lord alone.
King of Kings, give me humble confidence today. Humble me with full awareness that You and You alone can stand against Satan. Give me the courage to stand confidently knowing that You are in me and I am in You. The battle is Yours, Lord. I rest in You today. Amen.
Listen to Pete, Jill & Stuart Briscoe on the Telling the Truth broadcast at OnePlace.com
SPECIAL OFFER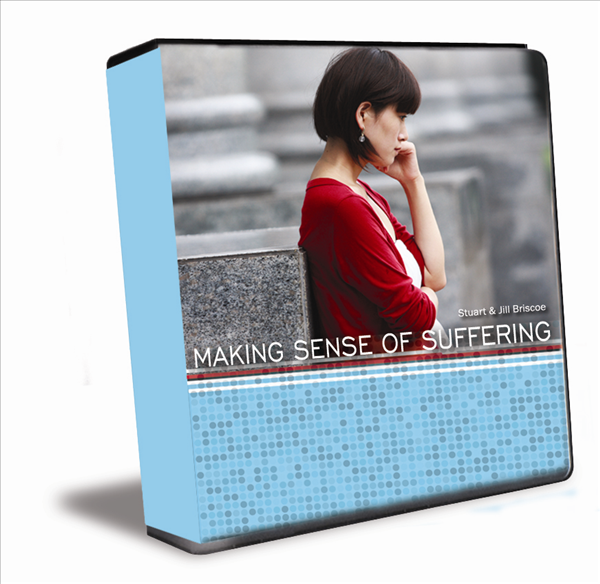 We want to help you make sense of suffering…
God is great. God is good. It's sung as a hymn and taught to children as a prayer. But we're not always sure we believe it! Why? Because of suffering. We see real devastation in our own families and across the world and think, "Either God is not so great, or He's not so good."
In this 2-message series called Making Sense of Suffering, Stuart and Jill Briscoe turn to Scripture to show you why God allows suffering, what good can come from it, and what happens when you accept the unacceptable.
Making Sense of Suffering is our gift to thank you for helping others experience real Life in the midst of their suffering. So please request your copy when you give to Telling the Truth today.