Their plan had been very simple. To stay together for the rest of their lives. – Cecelia Ahern, P.S. I Love You
The day I married my wife, I made some remarkable promises. She became my lawful wedded wife from that day forward, for better for worse, for richer for poorer, in sickness and in health, to love and to cherish, till death do us part.
Yes, I actually promised to love her until one of us dies.
Since then, I've realized that marriage is beautiful and challenging – sometimes maddening. It's glorious, sweet, hard, comforting, irritating, frustrating, and exhilarating. Yet behind all these ongoing fluctuations of circumstances and emotions, the promises stand. My plan when I married her was to stay married – and that plan is still going strong.
Still, was "till death do us part" really necessary?
Not only was it necessary, but I believe God designed it that way for a reason. See, God knows that true love is experienced in the context of enduring relationship. In fact, this is the type of relationship He offers us. From Deuteronomy to Hebrews, God tells His people, "I will never leave you nor forsake you" (Joshua 1:5).
Not only does He invite us into enduring relationship with Him, but He also extends opportunities for us to experience this type of relationship with one another.
Answer me this: How many deep relationships do you have that have lasted more than half your life? Not many. When God came up with the idea of marriage – and I do believe marriage is God's idea – He did so because He knows true love is experienced in the context of an enduring relationship. So He put a no-out clause – "till death do us part" – in there so we'd stay together.
God's idea. God's way. In fact, I believe God's ideas are always best when they are experienced God's way.
Lord, thank You for loving without leaving. If I haven't before, I choose to see marriage as a way to learn the language of Your love as I experience it myself through a relationship intended to last for all my days on earth. Amen.
Listen to Pete, Jill & Stuart Briscoe on the Telling the Truth broadcast at OnePlace.com
SPECIAL OFFER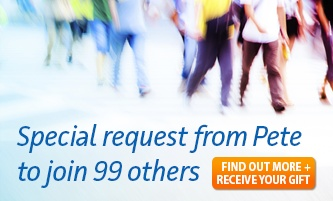 Jill Briscoe's A Little Pot of Oil book and DVD
You know what it's like to be at the end of where your strength can take you. Yet God has given us what we need to fill up when we run low: the incredible gift of Himself! Jill Briscoe wants to help you renew your hope when you're running low. Request her book and DVD,
A Little Pot of Oil
, today!