People have asked me why I chose to be a dancer. I did not choose. I was chosen to be a dancer, and with that, you live all your life. — Martha Graham
Back in the day, the church at Corinth was an absolute mess. Sure, they were a holy mess because they were saints in Christ, but their behavior was pathetic. Paul could have started his letter to them like this: "Hey, what's wrong with you people? You're a bunch of idol-loving, sex-crazed, unfaithful, egotistical, self-centered, greedy babies! Stop that! Get your act together!" But do you know what? Paul never starts his letters like that. He always starts by telling them who they are in Christ first.
Paul, called to be an apostle of Christ Jesus by the will of God, and our brother Sosthenes, To the church of God in Corinth, to those sanctified in Christ Jesus and called to be his holy people, together with all those everywhere who call on the name of our Lord Jesus Christ – their Lord and ours… I always thank God for you because of his grace given you in Christ Jesus.  —1 Corinthians 1:1-2, 4
This is the pattern throughout the New Testament and it's a powerful pattern that sets us free to live as God created us to live. First, we realize the truth about who we are in Christ, then comes the "expression" part. "Marching" focuses on the commands without even thinking about who we are in Christ. "Dancing" begins when we rest in what He has done, and who we are because of it.
Listen, when someone realizes that they really are an A+ student because of Christ, then they will start to live like it. That's totally backwards from the way it works in the world… but then again, isn't almost everything Christ did?!
My Heavenly Father, I am a mess too, just like the Corinthians. I thank You from the bottom of my heart for the grace You have given me in Christ Jesus, that I've been set apart. I thank You that I am called to be holy, chosen by You to be Your child. Amen.
Listen to Pete, Jill & Stuart Briscoe on the Telling the Truth broadcast at OnePlace.com
SPECIAL OFFER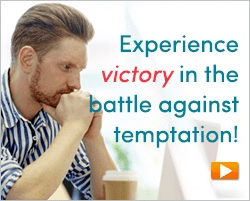 Experience victory in the battle against temptation!
Everyone struggles with sinful desires and selfish motives. So how do you fight against those temptations—permitted by God and promoted by Satan—when your soul feels like a battlefield?
We want to help you experience victory in the battle against temptation by sending you the 4-message teaching series, Triumph Over Temptation, by Stuart, Jill, and Pete Briscoe. This series will equip you with Life-changing biblical truth, so you can turn the next opportunity to do wrong into a powerful opportunity to do right!