It's not whether you win or lose, it's how you play the game. — A common phrase... spoken only to losers. 
The Bible isn't all good news. The book of Romans, for example, is brutally honest about our starting GPA in life. In chapters one through three, Paul dishes out the evaluation: We all start with an F. It doesn't matter if you're a really religious person, totally hedonistic person, or a really judgmental person; every single person starts with an F because sin has separated us from God.
...all have sinned and fall short of the glory of God... — Romans 3:23
But then, chapter four and five of Romans describes the stunning way we get an A. This is the cram-sheet for the most important exam question in all eternity, and this is the stunning answer:
Therefore, since we have been justified through faith, we have peace with God through our Lord Jesus Christ, through whom we have gained access by faith into this grace in which we now stand. And we boast in the hope of the glory of God. — Romans 5:1-2
You get the A not by your works. It's by trusting in the finished work of Christ. We "make the grade" with God by totally different standards than the way the world judges us. And I'm telling you, this higher truth is one of the indispensable keys to unlocking a life of freedom.
Holy Spirit, I stand in Your grace, by faith, ready to face this day. I celebrate God's glory and the hope grace gives right now. Set me free to dance with Christ because of what He has done. Amen.
Listen to Pete, Jill & Stuart Briscoe on the Telling the Truth broadcast at OnePlace.com
SPECIAL OFFER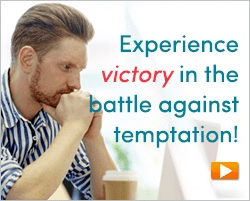 Experience victory in the battle against temptation!
Everyone struggles with sinful desires and selfish motives. So how do you fight against those temptations—permitted by God and promoted by Satan—when your soul feels like a battlefield?
We want to help you experience victory in the battle against temptation by sending you the 4-message teaching series, Triumph Over Temptation, by Stuart, Jill, and Pete Briscoe. This series will equip you with Life-changing biblical truth, so you can turn the next opportunity to do wrong into a powerful opportunity to do right!