The bottom line is this. That the gospel is about the forgiveness of sins so the Spirit might come. The goal of all this covenant activity is to restore a lost relationship to connect God to his people as he lives within. –Dr. Darrell Bock
One of the most famous sermons ever preached is Jonathan Edwards' Sinners in the Hands of an Angry God. Intense stuff. It's a whole bunch of hell (all of it true) ... and then right at the end he says, "Hey, and you can get out of this if you want to." But by that point, you're so overwhelmed by the bad news, the good news can get lost, bringing little or no peace and little direction for what life in Christ can be.
Be strong in the Lord and in his mighty power. ... Put on the full armor of God so that you can take your stand against the devil's schemes. ... Stand firm then, ... with your feet fitted with the readiness that comes from the gospel of peace. –Ephesians 6:10-­15
I think sometimes we miss the peace of the Gospel because we tend to communicate so much bad news first. What's fascinating is that when you read the biblical writers, they don't come at the Gospel that way. (In fact, Paul never mentions hell once in his Gospel presentations.) They come at the Gospel from a completely different angle. Consider Peter:
"We tell you the good news: What God promised our ancestors he has fulfilled for us, their children, by raising up Jesus." –Acts 13:32-­33
What is one important angle of the Gospel? What God promised our fathers He's fulfilled for us.
That's the good news. But it begs some questions, doesn't it? What has God promised? By looking at some of those promises this week, the amazing breadth and depth of the Gospel of good news will unfold.
Jesus, this week align my hope with the promises of Your Word. Amen.
Listen to Pete, Jill & Stuart Briscoe on the Telling the Truth broadcast at OnePlace.com
SPECIAL OFFER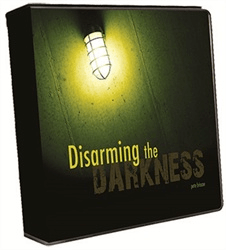 Pete Briscoe's Disarming the Darkness DVD or CD series
Satan loves to use Christians as his punching bag. But if you're a believer, you don't have to fear his attacks and can walk in freedom! Learn more about Satan's defeat and your triumph in Christ in this encouraging 7-message CD or DVD series from Pete Briscoe.