O Holy Spirit, descend plentifully into my heart. Enlighten the dark corners of this neglected dwelling and scatter there Thy cheerful beams. – St. Augustine
Most children love being read to and tucked in at night. But all good things must come to an end, right? Somehow, when we leave the room, turning on a little nightlight can drive away anxious thoughts of SOMETHING SCARY under the bed or in the closet. Parents will readily admit that mysterious comfort and power exists in the warm glow of a nightlight.
Paul points out there is a great source of comfort and power that comes from God: "Be strong in the Lord and His mighty power" (Ephesians 6:10). All throughout the Scriptures, God demonstrates His immense and intense power. He created the universe, built and destroyed nations, and reigns supreme over everything … quite a resume!
But our confidence in Him isn't just a result of what He's done. The Bible tells us of the promises He has made – the things He is doing and will continue to do through us and for us. And that's important, because we aren't talking about imagined scary things under the bed.
For our struggle is not against flesh and blood, but against the rulers, against the authorities, against the powers of this dark world and against the spiritual forces of evil in the heavenly realms. … Stand firm then… your feet fitted with the readiness that comes from the gospel of peace. – Ephesians 6:12, 15
Now we have a light which can guide us through any darkness, because God is faithful in this world and the next. What God promised our fathers He's fulfilled for us. God's promises are made complete in Christ. That's good news. That's the Gospel.
Therefore put on the full armor of God, so that when the day of evil comes, you may be able to stand your ground, and after you have done everything, to stand. – Ephesians 6:13
Lord, open my eyes to see all that You have promised in the Scriptures. Open my mind to learn what it truly means to know the message of the cross and more. Live through me to lead others to find comfort in the light of Your promises – the good news of your Gospel. Amen.
Listen to Pete, Jill & Stuart Briscoe on the Telling the Truth broadcast at OnePlace.com
SPECIAL OFFER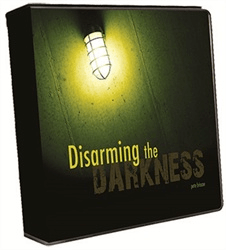 Pete Briscoe's Disarming the Darkness DVD or CD series
Satan loves to use Christians as his punching bag. But if you're a believer, you don't have to fear his attacks and can walk in freedom! Learn more about Satan's defeat and your triumph in Christ in this encouraging 7-message CD or DVD series from Pete Briscoe.