All their life in this world and all their adventures in Narnia had only been the cover and the title page: Now at last they were beginning Chapter One of the Great Story which no one on earth has ever read: which goes on for ever: in which every chapter is better than the one before. – C.S. Lewis, The Last Battle
I love C.S. Lewis. He wrote things for children's books that still astound the most mature adult theologians. We can think of salvation as something that happened once. But is it possible that it's only the beginning of the "Great Story?" The New Testament talks about salvation in three tenses – past, present, and future.
Past Tense. I have been saved. I was saved from death and I was brought into life.
For it is by grace you have been saved, through faith–and this not from yourselves, it is the gift of God. – Ephesians 2:8
Present Tense. I am being saved. I am realizing what I have in Christ and He's continuing the salvation process in me: I am aligning my soul, my mind, my will, my desires with who I am in Christ.
For we are to God the pleasing aroma of Christ among those who are being saved and those who are perishing. – 2 Corinthians 2:15
Future Tense. I will be saved. One day we will see Jesus face-­to-­face and in that day there will be no more fallen-­ness, no more pain, no more Satan whispering lies, no more sin–just Jesus and us completely like Him, fully put back together (wild applause!).
[You] who through faith are shielded by God's power until the coming of the salvation that is ready to be revealed in the last time. – 1 Peter 1:5
We can put on this helmet of salvation, the truth about who we are in Christ today, even as we thank Him for what He did in the past, look forward to that glorious day in the future, while allowing the Holy Spirit to live through us in the present. When we look at salvation that way, "every chapter is better than the one before."
Jesus, I marvel at the gift of salvation You have given me! Thank You for the hope of salvation and the knowledge of better days to come. Renew me and transform me as I align my thoughts and will with Your truth so that I can know You more. Amen.
Listen to Pete, Jill & Stuart Briscoe on the Telling the Truth broadcast at OnePlace.com
SPECIAL OFFER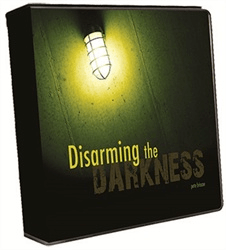 Pete Briscoe's Disarming the Darkness DVD or CD series
Satan loves to use Christians as his punching bag. But if you're a believer, you don't have to fear his attacks and can walk in freedom! Learn more about Satan's defeat and your triumph in Christ in this encouraging 7-message CD or DVD series from Pete Briscoe.