Rugby is a beastly game played by gentlemen. Soccer is a gentleman's game played by beasts. Football is a beastly game played by beasts. – Henry Blaha
My dad played rugby when he was growing up in England. That's a tough sport. I heard one person say that they went to a gang fight, and a rugby game broke out. But when my dad watched American football, he would say, "Boy, it's so much more violent than rugby."
In rugby they don't wear any pads or helmets, so when they're going in for a tackle, they're thinking, "Gotta protect my head!" But in American football, they're wearing all this armor – they can throw themselves into the battle with more confidence. See where this is going? Just as a football helmet breeds confidence in football players, the helmet of salvation breeds confidence in believers of Jesus Christ.
Take the helmet of salvation and the sword of the Spirit, which is the word of God. – Ephesians 6:17
When we understand our eternal position with God in Christ, the focus of our game can change. But if we don't suit up with the armor of God, then it would be like playing in the Super Bowl without any protection. Sounds a bit dangerous, doesn't it? Right, and we would play like paranoid wimps.
The truth is, we are playing spiritual football, and Satan is hitting us hard with lies. So we too need protective covering for our minds – the truth about the security of our salvation. Not only does spiritual armor protect us, but it also empowers us.
Being confident of this, that he who began a good work in you will carry it on to completion until the day of Christ Jesus. – Philippians 1:6
When we understand our assurance of future complete and absolute salvation, we find a new confidence growing within us, and we find a new experience of life in Christ. We can rest in the One who holds us well, free from fear and worry, thereby liberating us to enjoy life and follow Christ with passion.
Father, the most important thing You've ever given us is our salvation. I have found new life in You. I give You my fears and worries, because I know that You can take care of them better than I can. Give me confidence to run for the ultimate victory! Amen.
Listen to Pete, Jill & Stuart Briscoe on the Telling the Truth broadcast at OnePlace.com
SPECIAL OFFER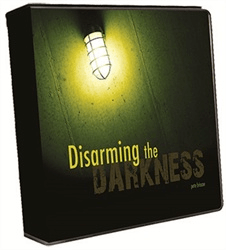 Pete Briscoe's Disarming the Darkness DVD or CD series
Satan loves to use Christians as his punching bag. But if you're a believer, you don't have to fear his attacks and can walk in freedom! Learn more about Satan's defeat and your triumph in Christ in this encouraging 7-message CD or DVD series from Pete Briscoe.