Myths about life, death and eternity
"I don't believe in an afterlife, so I don't have to spend my whole life fearing hell, or fearing heaven even more. For whatever the tortures of hell, I think the boredom of heaven would be even worse."– Isaac Asimov
I love inventing words. One of my favorites is "mythstake." A mythstake is a combination of a mistake and a myth. I keep checking in Webster's dictionary and they haven't put that word in there yet, but 20 years from now when "mythstake" is in all of the dictionaries of the world, you can say to your sons and daughters, "I remember, back in the day, when Pete Briscoe first used this now famous word in a daily devotional…"
Unlike a mistake, however, a mythstake is not an accident. It's an error that is a consequence of believing a myth (a commonly held notion that has no basis in truth). Mythstakes can have serious earthly consequences, but some mythstakes impact not only this life, but the life to come as well, what happens beyond the grave, what happens in eternity… as in forever.
That's both exciting and scary, because people believe things about eternal life that are myths. If they buy into those myths, they will make mistakes that last a long, long, long time. If we want to avoid these mythstakes, we need to know more than the facts of life; we need to know the facts about eternal life. The most important fact is this:
And this is the testimony: God has given us eternal life, and this life is in his Son. Whoever has the Son has life; whoever does not have the Son of God does not have life. I write these things to you who believe in the name of the Son of God so that you may know that you have eternal life. – 1 John 5:11-13
Any myth that causes us to make mistakes by distracting us or diverting us from Jesus is serious. We see these mythstakes all around us. We will take a look at them one at a time in the days ahead and you will be able to recognize them in the people around you. But are you willing to recognize any of these mythstakes in yourself?!
Burn into my soul the reality of heaven and hell. Search my heart and reveal the myths that have infiltrated my beliefs about everlasting life and replace them with truth from your living Word.
Amen
Listen to Pete, Jill & Stuart Briscoe on the Telling the Truth broadcast at OnePlace.com
SPECIAL OFFER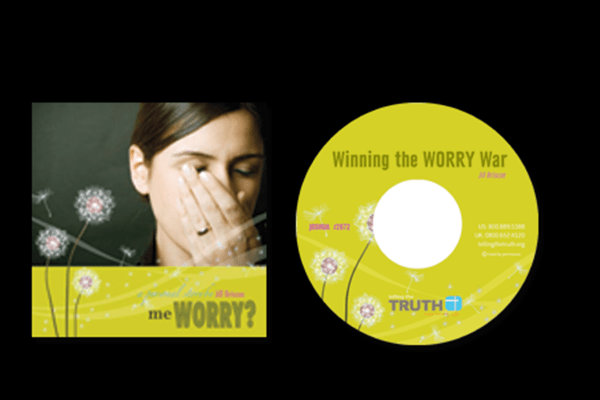 We want to help you win over worry!
Worry doesn't have to have the victory over you! And in Jill Briscoe's special CD/booklet combo pack, she'll show you why… and how you can experience peace, joy, and fullness of life, no matter what's happening around you.
This special set contains one of the most popular messages that Jill has ever taught, "Winning the Worry War," along with her booklet, Me Worry? So please request yours below.