What's in your head and heart?
Pastor Mark Jeske
Without a doubt, receiving the Lord's Supper is the most profound encounter with God we are allowed this side of heaven. Think about it—you are being given the very body of Christ, once nailed to the cross for you. You are given the blood of Christ, the very price of your salvation. His body physically touches yours; you become part of his. Your forgiveness is guaranteed; your place at the heavenly banquet table is promised.

But you need to know what is going on for the Lord's Supper to have these blessed effects, and you need to believe what God is teaching you. "Whoever eats the bread or drinks the cup of the Lord in an unworthy manner will be guilty of sinning against the body and blood of the Lord. Everyone ought to examine themselves before they eat of the bread and drink of the cup" (1 Corinthians 11:27,28). What's in your head and heart really matters; that's why churches ask potential communicants to take the Bible studies first so that their participation will not be in an "unworthy manner."

What does this examination look like? Four things: 1) Admit that you are a lost and condemned sinner. 2) Rejoice that your Savior Jesus has lived, suffered, died, and risen for you. 3) Recognize in the Supper the true body and blood of Christ, given and poured out for you for the forgiveness of your sins. 4) Rededicate yourself to serving the Lord with your life.
---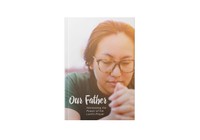 Harness the power of the Lord's Prayer!
Our Father is a small book with big insights. It gives you a behind-the-scenes look at the very meaning of the Lord's Prayer. With each phrase devotionally unpacked, you'll be more than inspired. You'll be empowered! 
For more from Time of Grace visit them at TimeofGrace.org.