Old John
Jason Nelson
Old John came to this country from Austria a long time ago. He worked in a factory in the city and then moved up north. He may have had a family but lives alone in a trailer in the woods. He is a slight man, probably a shrunken version of his former self. He has some scattered back teeth that peek out when he flashes his big open smile. Even in warm weather he bundles up in well-worn layers, grabs his carved walking stick, and navigates a little trail to check for his mail.

The day he turned 90 he shrugged off a wish for a happy birthday. He pointed heavenward and with a stubborn accent whispered, "I just want to go to the Lord." Old John spoke for many people his age. Ninety isn't the new anything. It's old age, and more of us may have to deal with it. It's likely to be a test of faith. It would have been insensitive to tell John he seems spry for a man his age or should be glad he can still live on his own. Only he knows what it's like to be in his body and feel what's in his soul.

Old John is ready to die and is enduring what is left of life by clinging to a promise that we can all cling to: "I was young and now I am old, yet I have never seen the righteous forsaken" (Psalm 37:25).
---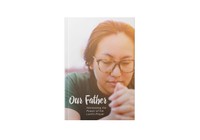 Harness the power of the Lord's Prayer!
Our Father is a small book with big insights. It gives you a behind-the-scenes look at the very meaning of the Lord's Prayer. With each phrase devotionally unpacked, you'll be more than inspired. You'll be empowered! 
For more from Time of Grace visit them at TimeofGrace.org.