Spray-painted hazards
Linda Buxa
Each year in Finland there are 3,000 to 5,000 reindeer versus auto accidents. These cause 15 million euros in damage and kill about 4,000 reindeer.

Last winter, the Finnish Reindeer Herders' Association came up with a unique way to solve the problem. They painted the reindeers' fur with a water-soluble paint, and spray-painted the antlers with a more permanent reflective paint. This way, the animals reflect auto headlights, giving drivers enough time to slow down and steer around the danger.

Too often temptations are like unmarked reindeer. You don't see them until it is too late. The wreck leaves you with a huge pile of damage—emotional, spiritual, physical, and financial. God tells us to spray-paint the danger in our lives: "Have nothing to do with the fruitless deeds of darkness, but rather expose them. But everything exposed by the light becomes visible, for it is light that makes everything visible" (Ephesians 5:11,13,14).

Use the light of Jesus, the Light of God's Word, to know what is dangerous for your faith. Then mark it so you can spot it a mile away and avoid it.
By the way, this is a whole lot easier if you have a group of Christians in your life to help you. Find friends who are brave enough to speak up when you are toying with darkness, who hold you accountable when fruitless deeds seem like a good idea. These are the same friends who, when you have caused a wreck, will listen to your confession and offer Jesus' forgiveness to you.
Safe driving!
---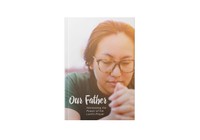 Harness the power of the Lord's Prayer!
Our Father is a small book with big insights. It gives you a behind-the-scenes look at the very meaning of the Lord's Prayer. With each phrase devotionally unpacked, you'll be more than inspired. You'll be empowered! 
For more from Time of Grace visit them at TimeofGrace.org.