God did me a favor
Pastor Mark Jeske
When a group of married guys is sitting around on the deck or at a bar, occasionally one of them will say something like, "I married above myself." Heads will nod, and somebody will chime in, "We all did." That doesn't mean that we say it or show it to our wives very often, but deep inside we know. We know.

We know that our wives tune us up to be better family members, better employees, better dads, better men. We have learned better manners, social graces, and the priceless art of thinking ahead as to how our words and actions will affect other people. We learn to listen a little bit first before plunging ahead into things. We get insights into how the other 50% of the human race thinks.

We get a life partner who can help interpret what happened at the office party or family gathering. We get a steady friend who will tell us the truth when we need to hear it, whether we like it or not. We get someone who will tend us when we've been bruised, clap and cheer for us even when nobody else is, and eagerly join us in life's adventures.

Men did not invent gender, sexuality, or marriage; God did. It might also surprise us to find out someday how much God had to get involved to connect us with our wives. "He who finds a wife finds what is good and receives favor from the Lord" (Proverbs 18:22).
---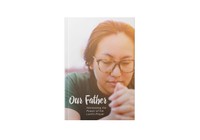 Harness the power of the Lord's Prayer!
Our Father is a small book with big insights. It gives you a behind-the-scenes look at the very meaning of the Lord's Prayer. With each phrase devotionally unpacked, you'll be more than inspired. You'll be empowered! 
For more from Time of Grace visit them at TimeofGrace.org.