He'll make more
Pastor Mark Jeske
Some people shrug off hardship and adversity. They leave their "poverty days" in the rearview and go forward without looking back. Other people remember the lean days too much and have anxiety running in the backs of their minds all the time. They act out that fear by becoming pack rats and hoarders. ("Don't throw that out—I might need it someday.") They feel guilt when they buy something. They pore over their retirement savings often and groan that it's not enough. Every downturn in financial markets ricochets through their brains. They can't bring themselves to be generous givers to a ministry because they might run out of money.

Those fears and pressures are not unique to this modern era—Christians have always struggled with them. In early Christian times, people felt just as much financial stress as we do today. The terror of scarcity is rooted in the suspicion that God's active working in people's lives is mostly in the past and that we are marching forward on our own into an uncertain, treacherous, scary future.

St. Paul's wonderful words of encouragement resonate as much today as they ever did: "God is able to make all grace abound to you, so that in all things at all times, having all that you need, you will abound in every good work" (2 Corinthians 9:8). The God we worship loves to give you things, bless your efforts, grow your resources, connect you with friends, and help you succeed.

Don't be afraid of running out. He'll make more.
---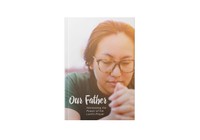 Harness the power of the Lord's Prayer!
Our Father is a small book with big insights. It gives you a behind-the-scenes look at the very meaning of the Lord's Prayer. With each phrase devotionally unpacked, you'll be more than inspired. You'll be empowered! 
For more from Time of Grace visit them at TimeofGrace.org.