In God's eyes I'm beautiful
Pastor Mark Jeske
It's a struggle to look good, isn't it? How hard we work at it; how constant the pressure. We all know that every day we are being evaluated on our appearance. Frankly, most of us aren't that hot. Age, gravity, and stress take a toll each year. Take a look around you next time you're sunning yourself at a crowded beach. Only a very few of those people should be wearing so little clothing.
We try to be brave about it and wear flattering clothes, paint the acne, color the gray, sneak out for liposuction or Botox, try to resist junk food, ask about Rogaine, and make a stab at working out. But I suspect that most of us are pretty insecure about how we look.
But we have acceptance, love, and even admiration in the arms of our heavenly Father. Here's the message his Son, Jesus, was commissioned to proclaim during his earthly ministry: "The Spirit of the Sovereign Lordis on me, because the Lordhas anointed me to preach good news to the poor. He has sent me . . . to comfort all who mourn, and provide for those who grieve in Zion—to bestow on them a crown of beauty instead of ashes"(Isaiah 61:1-3).
Note the language—we receive a crown not of victory or rank or power (though those things are true), but a crown of beautyto replace the ashes of shame, loss, insecurity, and the ugliness of our sin.
In Daddy's eyes you look great!
---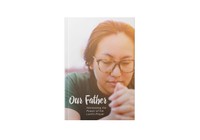 Harness the power of the Lord's Prayer!
Our Father is a small book with big insights. It gives you a behind-the-scenes look at the very meaning of the Lord's Prayer. With each phrase devotionally unpacked, you'll be more than inspired. You'll be empowered! 
For more from Time of Grace visit them at TimeofGrace.org.