In God's eyes I'm perfect
Pastor Mark Jeske
You know, it's good to pay attention to details. It's good to finish what you started. It's good to be tidy. It's even good to aim for perfection, but some people are cursed at not being able to stop. They never seem happy with other people because they're so disappointed at their shortcomings. Nothing is ever quite good enough—the salsa was too picante, the roast was a little dry, the coffee not hot enough, and there was dust on the chair rungs.

They probably aren't happy with themselves either. Perfectionists just can't relax after a project and say to their helpers, "You did well," and think to themselves, "and I did too." There was always more that could have been done, flaws to fret over, and insecurity about what people may or may not have thought.

Here are words of encouragement for all perfectionists, and all victims of perfectionists, from the half-brother of our Lord Jesus himself: "To him who is able to keep you from falling and to present you before his glorious presence without fault and with great joy—to the only God our Savior be glory, majesty, power and authority, through Jesus Christ our Lord" (Jude 24,25). In God's eyes we're perfect, as perfect as Jesus himself!

That means you can look forward to your first face-to-face meeting with God completely without fear. He won't be disappointed in you. In fact, according to Jesus' own words, the first thing you will hear is, "Well done, good and faithful servant."
---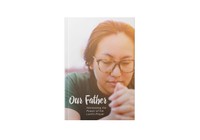 Harness the power of the Lord's Prayer!
Our Father is a small book with big insights. It gives you a behind-the-scenes look at the very meaning of the Lord's Prayer. With each phrase devotionally unpacked, you'll be more than inspired. You'll be empowered! 
For more from Time of Grace visit them at TimeofGrace.org.