December 14
Together
God loves it when you worship him all by yourself—reading his Word, humming and singing hymn stanzas and Christian songs, and showing appreciation and thankfulness when you see good things happening. But he likes it as much or more when you worship him with a group of fellow believers. It shows that you are proud of him, greatly increases your chances of learning things from the wisdom and testimonies of others, and builds up your courage and self-confidence through a living fellowship.
It's the same with your prayer life. God loves to hear from you one-on-one. But he takes such delight in group prayer that he attaches special promises to the experience: "I tell you that if two of you on earth agree on anything you ask for, it will be done for you by my Father in heaven. For where two or three come together in my name, there am I with them" (Matthew 18:19,20).
There are many ways to do this: interceding for one another in your worship services, small-group prayer gatherings, online prayer teams, phone prayers, family time, or school groups. The beauty of it is that not only does God show special favor to that kind of praying, but you also end up with deeper friendships as a result. As Solomon wrote in Ecclesiastes 4:9,10, "Two are better than one. . . . If one falls down, his friend can help him up."
Do you have prayer partners?
---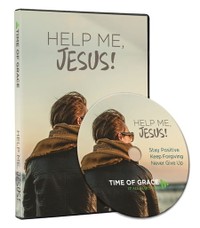 Help Meet the Challenge Grant!
A group of generous friends has stepped forward with a $350,000 Challenge Grant. This means any gift you give to Time of Grace this month will be worth twice as much to share the timeless truths of God's Word with others!
This three-part DVD focuses on looking to God when you're struggling with issues like forgiving others and persevering through trials. And the prayer book helps you put your struggles and concerns into words—and turn them into prayers to God.
The Help Me, Jesus! set is our thank-you for your donation to help us continue telling others of the forgiveness they have through Jesus. Request your copy today!
For more from Time of Grace visit them at TimeofGrace.org or visit their OnePlace.com and LightSource.com pages!