December 17
Mary, Wife of Joseph
When the angel Gabriel came to a woman named Mary with the world's most unusual birth announcement, it may have sounded a little glamorous. "Son of the Most High God, throne of his father David, reign over the house of Jacob forever . . ." Whew! Mary must have been giddy at first.
But her role was going to cost her. Bearing the label of unwed mother was no treat in a small town. Neither was deciding to go with Joseph to register in Bethlehem for the imperial census. "Joseph also went up from the town of Nazareth in Galilee to Judea, to Bethlehem the town of David, because he belonged to the house and line of David. He went there to register with Mary, who was pledged to be married to him and was expecting a child" (Luke 2:4,5).
Would you like to walk or donkey ride 80 miles over some very hilly dirt roads while very pregnant? No? I didn't think so. I don't know if Mary mistimed her due date or simply decided that she couldn't bear to stay alone in Nazareth, but she made the trek nine months pregnant.
What about the trauma of going into labor in a barn, in the dark, with your carpenter/fiancé as your midwife? This woman is a hero. All generations indeed shall call her blessed.
---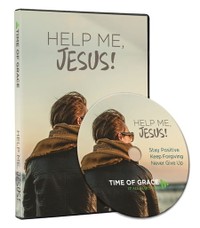 Help Meet the Challenge Grant!
A group of generous friends has stepped forward with a $350,000 Challenge Grant. This means any gift you give to Time of Grace this month will be worth twice as much to share the timeless truths of God's Word with others!
This three-part DVD focuses on looking to God when you're struggling with issues like forgiving others and persevering through trials. And the prayer book helps you put your struggles and concerns into words—and turn them into prayers to God.
The Help Me, Jesus! set is our thank-you for your donation to help us continue telling others of the forgiveness they have through Jesus. Request your copy today!
For more from Time of Grace visit them at TimeofGrace.org or visit their OnePlace.com and LightSource.com pages!