December 2
It's Not the Quantity
Have you ever had to attend the funeral of a child? It is surely one of the most miserable experiences in life. Parents are not supposed to have to bury their children. According to the generally accepted script of the human race, we are all supposed to live into our 90s and then have a sweet, slow decline and die peacefully in our sleep. Well, nice thought, but the human story hardly ever turns out like that.
People's time is cut short regularly. Think of all the young men who have perished on the battlefields of the centuries. Think of SIDS and childhood cancer and street violence. Realize, though, that God is still in ultimate control and that it is he who assigns meaning and mission to our lives. He is the one who assesses if we have lived long enough to fulfill the purpose for which we were created. Think of Jesus himself, whose ministry lasted only three super-short years.
Or think of his herald, John the Baptist, whose ministry was even shorter. After about 18 months, he was imprisoned. Perhaps he was waiting for a miraculous angelic jailbreak. Here's what actually happened: "The king [Herod Antipas]was greatly distressed, but because of his oaths and his dinner guests, he did not want to refuse her. So he immediately sent an executioner with orders to bring John's head. The man went, beheaded John in the prison" (Mark 6:26,27).
Welcome home, John. Mission accomplished.
---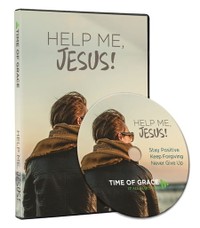 Help Meet the Challenge Grant!
A group of generous friends has stepped forward with a $350,000 Challenge Grant. This means any gift you give to Time of Grace this month will be worth twice as much to share the timeless truths of God's Word with others!
This three-part DVD focuses on looking to God when you're struggling with issues like forgiving others and persevering through trials. And the prayer book helps you put your struggles and concerns into words—and turn them into prayers to God.
The Help Me, Jesus! set is our thank-you for your donation to help us continue telling others of the forgiveness they have through Jesus. Request your copy today!
For more from Time of Grace visit them at TimeofGrace.org or visit their OnePlace.com and LightSource.com pages!