December 27
Act Like the Royal Priests You Are
One of the words about life in America that I have come to dislike is consumer. I wouldn't like that word applied to me, as though my principal function on earth is just to consume, use up resources. It seems to define me as just another potential customer to someone who wants to sell me something, just a user of goods and services, just a me-oriented materialist.
God doesn't want you to settle for being just a consumer of religion either. He has bigger dreams for you than simply to be a pew sitter, just a passive consumer of religious experiences, critiquing a Sunday service the way you and your friends might critique a movie. When you were brought to faith in Christ, you were drafted into God's ministry organization with the title "royal priest."
"To him who loves us and has freed us from our sins by his own blood, and has made us to be a kingdom and priests to serve his God and Father—to him be glory and power for ever and ever!" (Revelation 1:5,6).
Make it a priority to find out what being a royal priest means. Act like one.
---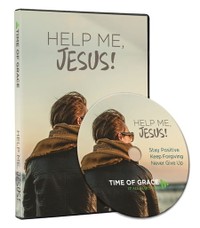 Help Meet the Challenge Grant!
A group of generous friends has stepped forward with a $350,000 Challenge Grant. This means any gift you give to Time of Grace this month will be worth twice as much to share the timeless truths of God's Word with others!
This three-part DVD focuses on looking to God when you're struggling with issues like forgiving others and persevering through trials. And the prayer book helps you put your struggles and concerns into words—and turn them into prayers to God.
The Help Me, Jesus! set is our thank-you for your donation to help us continue telling others of the forgiveness they have through Jesus. Request your copy today!
For more from Time of Grace visit them at TimeofGrace.org or visit their OnePlace.com and LightSource.com pages!