December 30
My Son Despises Me
Every parent would love to be able to freeze time.
There are some moments when your kids are little that you wish you could make last forever. They need you. They adore you. They play with you, giggle for you, pose for pictures with you, and more or less listen to you.
But we are not given these little treasures to own and control forever. We are entrusted with them to teach them, train them, raise them right, and then let go. But sometimes the nightmare ensues—they grow up and then reject us and our values and our faith. Do you know anyone who feels King David's gloom? "A messenger came and told David, 'The hearts of the men of Israel are with Absalom.' Then David said to all his officials who were with him in Jerusalem, 'Come! We must flee, or none of us will escape from Absalom'" (2 Samuel 15:13,14).
God himself knows what it is like to have rebellious and disobedient children. All we can do is do what he does: love unconditionally, keep communication open, hold to our faith and principles, and wait.
Everyone, rebellious children included, has a conscience that gives no peace without Christ. The words of the gospel once implanted in a heart can be remembered. Prodigal sons sometimes do return. 
---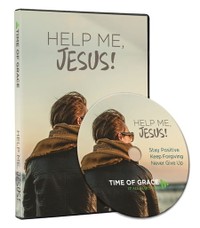 Help Meet the Challenge Grant!
A group of generous friends has stepped forward with a $350,000 Challenge Grant. This means any gift you give to Time of Grace this month will be worth twice as much to share the timeless truths of God's Word with others!
This three-part DVD focuses on looking to God when you're struggling with issues like forgiving others and persevering through trials. And the prayer book helps you put your struggles and concerns into words—and turn them into prayers to God.
The Help Me, Jesus! set is our thank-you for your donation to help us continue telling others of the forgiveness they have through Jesus. Request your copy today!
For more from Time of Grace visit them at TimeofGrace.org or visit their OnePlace.com and LightSource.com pages!