December 4
The Beast Within
TV shows and movies about werewolves and vampires are hot these days, but really people have always had a fascination with monster stories. Partly it's because we are scared about what evil creatures may do to us, and I think partly it's because we know there is an evil creature within us as well. There is a beast within, raging to get out. Like werewolves, we can tear and destroy; like vampires, we have felt the sick thrill of wanting to use other people for our own desires.
            Jesus made this sad observation about the human condition: "Out of the heart come evil thoughts, murder, adultery, sexual immorality, theft, false testimony, slander. These are what make a man 'unclean'" (Matthew 15:19,20).
What to do? Go back to Christ and his cross every day to be washed of yesterday's guilt and be refreshed for today. What to do? How about meaning it every time you pray, "Lead us not into temptation, but deliver us from evil"? Pray that the Spirit who also lives within you will restrain the beast. What to do? How about choosing to model your words and actions after Christ's own, seeing people as he did, treating them as he did, talking as patiently and gently as he did.
Christ's forgiveness is greater than your sin. His Spirit is greater than the beast within you.
---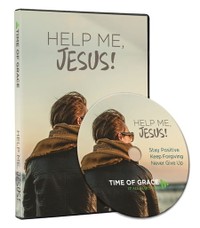 Help Meet the Challenge Grant!
A group of generous friends has stepped forward with a $350,000 Challenge Grant. This means any gift you give to Time of Grace this month will be worth twice as much to share the timeless truths of God's Word with others!
This three-part DVD focuses on looking to God when you're struggling with issues like forgiving others and persevering through trials. And the prayer book helps you put your struggles and concerns into words—and turn them into prayers to God.
The Help Me, Jesus! set is our thank-you for your donation to help us continue telling others of the forgiveness they have through Jesus. Request your copy today!
For more from Time of Grace visit them at TimeofGrace.org or visit their OnePlace.com and LightSource.com pages!