The hidden life
Pastor Mark Jeske
Normally it's not good to lead a double life. That usually means that somebody has a mistress or is embezzling funds from her employer or is running some kind of illegal business.

You and I do lead double lives, you know. The indwelling of the Holy Spirit in our hearts, our angelic protection, our saintly halos are all invisible to others, and frankly we don't perceive them either. We don't see the filth of our sins being rinsed away in baptism; we see only humble bread and wine in the Lord's Supper; we don't see any evidence of immortality at a Christian funeral as we lay a lifeless body in the ground.

But our second life is there, and it's real. "You died, and your life is now hidden with Christ in God" (Colossians 3:3). Your faith in Christ, though invisible in the wave spectrum available to your eyes, has made you a new creation, cleansed you of all sin, made you an heir of heaven, and changed your way of thinking. In short, you have gone from death to life. You are loved, forgiven, and immortal.

But for now we have to wait for all those things to be revealed to all. We believe them now as an article of faith, guaranteed by God's Word. Soon, soon, all that is hidden will be revealed and glorious. When you think of the riches that Christ holds in trust for you, people will wonder what you're smiling about.
---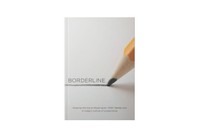 Draw the line at those "little" deadly sins!
Borderline is a warmly conversational, yet thought-provoking new book that will inspire you and perhaps even reset your views on the borderline issues. And it'll remind you all over again of the power of God's unconditional love and grace to help guide you through.
For more from Time of Grace visit them at TimeofGrace.org.